Bag-In-Box Horizontal Cartoner For Cereal Bags
One of our latest packaging automation projects is a horizontal cartoner that packs cereal bags into a box. A bag-in-box is a go-to packaging format when it comes to cereal. The bag maintains freshness while the box carries the design and the text that help market the cereal, together with nutritional information and other required disclosures. Besides cereal, this type of packaging solution is often used for other dry goods such as pasta, grains, and powders.
Our client was Crest Foods, a family-owned company founded in 1946. The Crest Foods Consumer Products Division specializes in developing and manufacturing dry food solutions for category leaders and emerging brands in the retail, foodservice, and industrial packaged goods industries.
We came up with the following solution.
The TT-600 is a continuous motion side-load cartoner that can reach speeds up to 500 cartons per minute, but this particular application runs at 140 cartons per minute. It is designed and built for the horizontal cartoning of cereal bags in pre-broken folding cartons. This cartoning machine features a compact footprint that allows you to save on your floor space, a hot melt glue closing system, and a Flexo-Tray article bucket system. The Flexo-Tray system best reflects patented design innovations that represent the new standard of excellence in horizontal cartoning automation. At the same time, the simplicity and ergonomic design of this horizontal cartoner will enable every client to pack and prepare their products for shipping quickly and efficiently.
TT-600 Bag-In-Box Cartoner Features
-Cartoning Bags of Cereal at 140 Cartons/Minute
-No-Product-No-Carton Functionality
-Flexo-Tray Adjustable-Width Article Bucket Conveyor
-Integrated Date Coding Ink Jet Printer and Barcode Reader
-Quick and Easy Servo Assisted Changeover
-Package Type: Pillow Bags, Pouches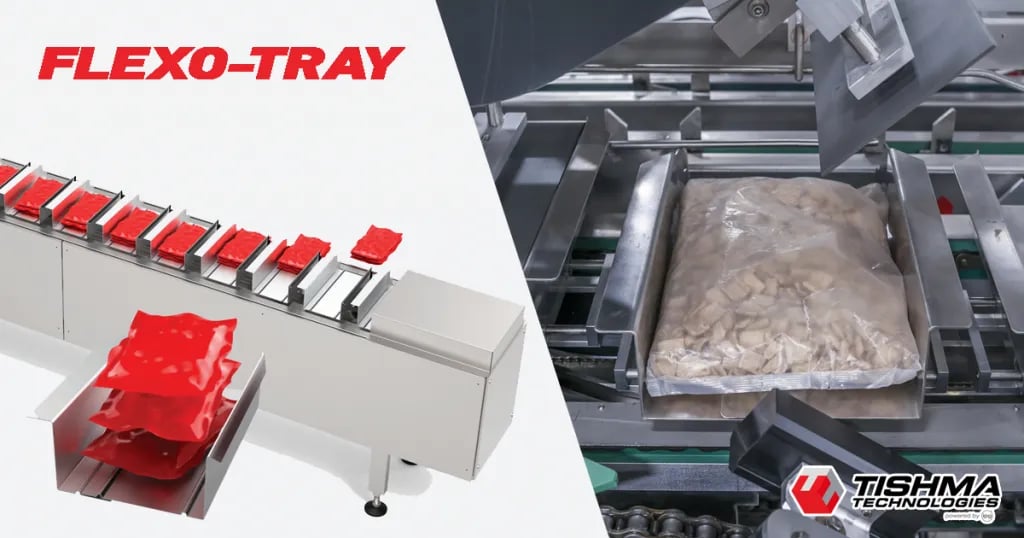 Operation Overview
Bags of Cereal are received from two VFFS machines onto the incline conveyors (not pictured in this post). Bags are automatically placed into article buckets of the TT-600 Horizontal Cartoning system utilizing two bag transfer systems. Cartons are stored in a 72" powered carton magazine with nickel-plated tubular steel frame, twin chain feed with shaft mounted pressure plate, and 1/8 H.P. VFD controlled drive motor with air clutch. A high-speed gear-driven rotary carton feeder with vacuum cup carton placers erect the carton upon detecting a bag in the article bucket. Twin chain, servo-controlled split carton pocket design allows easy and rapid changeover. The 24' Flexo-Tray Article Bucket System allows a wide target to insert the products and then slowly condense to the pre-set carton size. Article bucket changeover from size to size is in 10-15 seconds. Bags are rejected and discharged on a backside conveyor from the machine in a no-carton situation.
Carton flaps are closed using a series of stationary and mechanical plows. A Nordson Pro Blue 7 four-gun glue system applies glue on carton flaps. The system includes a melter unit, two hot melt dispensing guns mounted on adjustable brackets, and two 10-foot adhesive supply hoses. Solenoid valves, regulators, gauges, and complete integration are included. Open Flap detection and rejection system is also included in this machine.
TT-600 features an overall compact footprint, so you can rest assured it will fit your floor space. Reliable and portable with simple operation and a user-friendly interface, TT-600 will be up and running in no time, providing you with the best case-packing automation. Built from welded solid stainless steel with hinged cover panels and safety electrical interlocks, TT-600 is a powerful and efficient cartoner that meets the highest standards with state-of-the-art simplicity.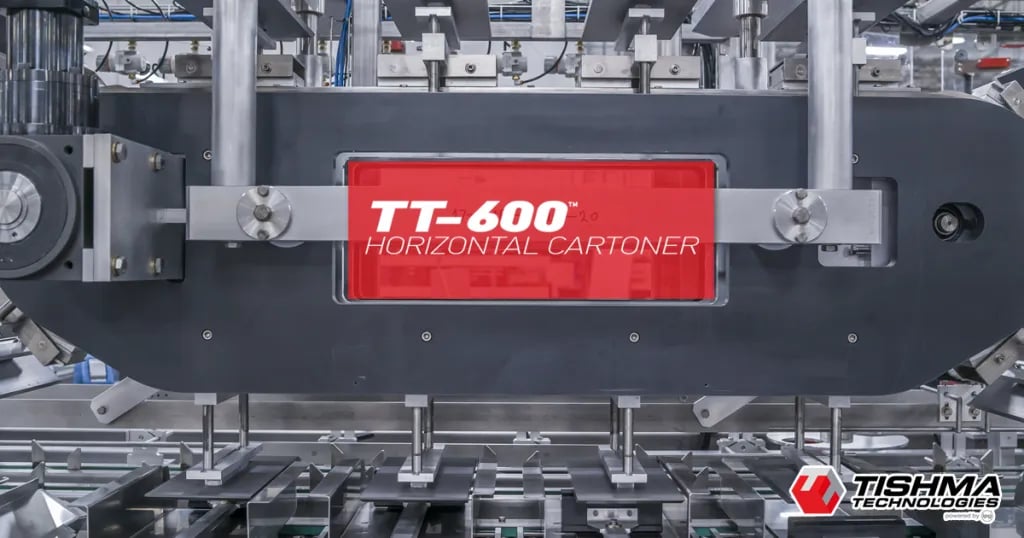 Part of being a good packaging machine manufacturer is acknowledging that every client is special. We see the client's specific demands as a challenge, and responding to that challenge is what makes us stronger and more experienced. So, if you are a cereal manufacturer in search of a packaging solution, don't hesitate to contact us!