Horizontal Case Packer For Instant Beverage Carton Trays
One of our latest packaging automation projects is a horizontal case packer that packs carton trays into a case.
We came up with the following solution:
The TT-1300S is an intermittent motion Side Load Case Packer that can reach speeds up to 30 cases per minute, but this particular model runs at speeds of 17 Cases/Minute. It is designed and built for case packing of carton trays, regardless of carton contents. Carton trays in the application shown contain instant beverage stick packs.
TT-1300S FEATURES:
Packs Trays of Cartons At Speeds of 17 RSC Cases / Minute
Integrated Acrylic Tape Case Sealer
Compact Overall Footprint
Easy and Safe to Operate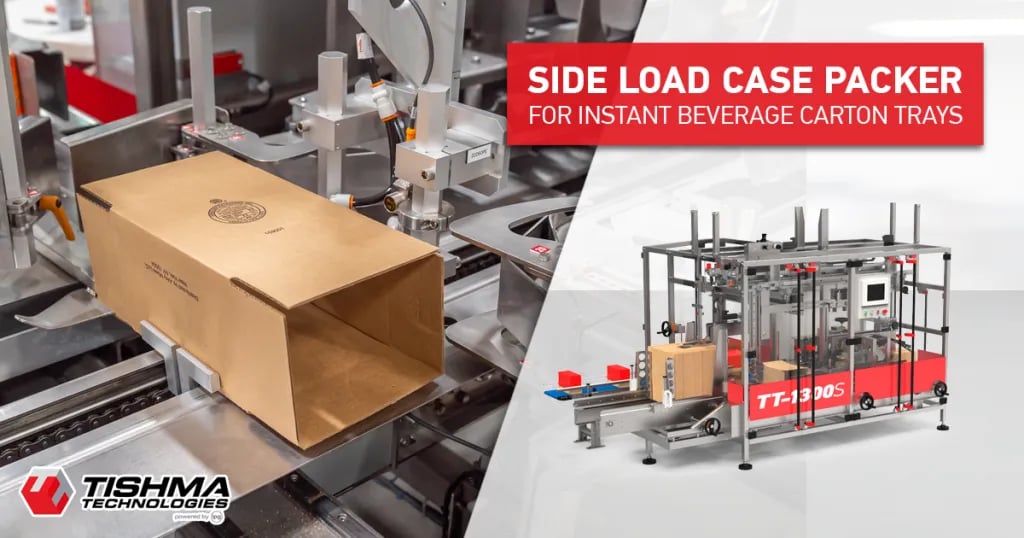 TT-1300 Side Load Case Packer Operation Overview
The TT-1300S Case Packer packs trays containing cartons with instant beverage stick packs in the corrugated RSC case. The Case Packer receives trays from the Tishma TT-60-TG tray packing machine (not shown in this video) on a conveyor. Trays enter the collation station, where they are collated in groups of two. Flat RSC cases are stored in a corrugated case magazine. A gear-driven reciprocating feeder with vacuum-assisted cup carton placers erects the case. The accurate count of trays is pushed into the case. A series of stationary and mechanical plows close the outer case flaps, and once the flaps are positioned, an Acrylic Tape Case Sealer seals both ends of the case. The case is then discharged.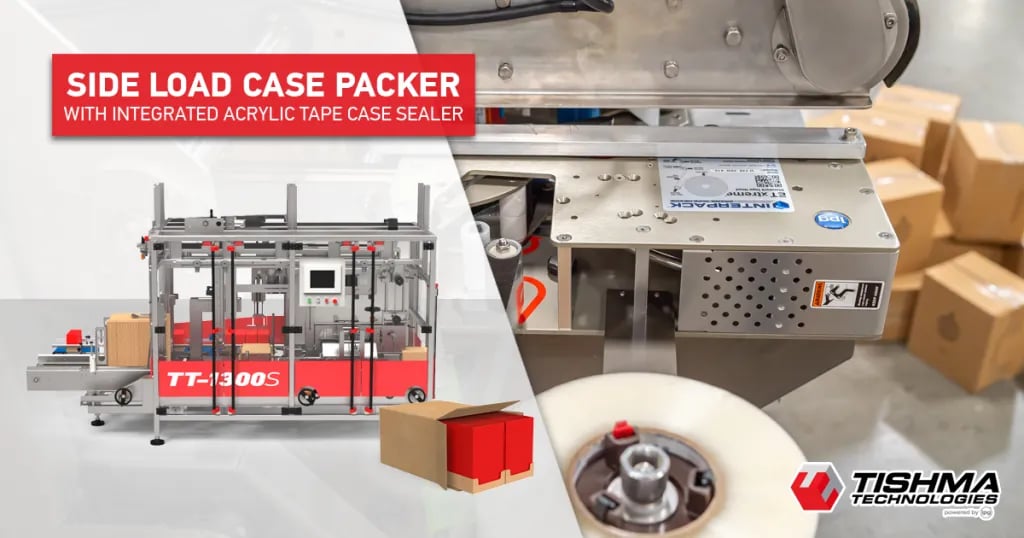 TT-1300S is a powerful and efficient side-load case packer that meets the highest standards with state-of-the-art simplicity and is built from welded solid stainless steel with hinged cover panels and safety electrical interlocks. TT-1300S features an overall compact footprint, so you can rest assured it will fit your floor space. Reliable and portable with simple operation and a user-friendly interface, TT-1300S will be up and running in no time, providing you with the best case packing automation.
Part of being a good packaging machine manufacturer is acknowledging that every client is special. We see the client's specific demands as a challenge, and responding to that challenge is what makes us stronger and more experienced. If you are a manufacturer of instant beverages searching for a case packaging solution, don't hesitate to contact us!