Top-Load Case Packer For Pharma Bottles: Model TT-1200T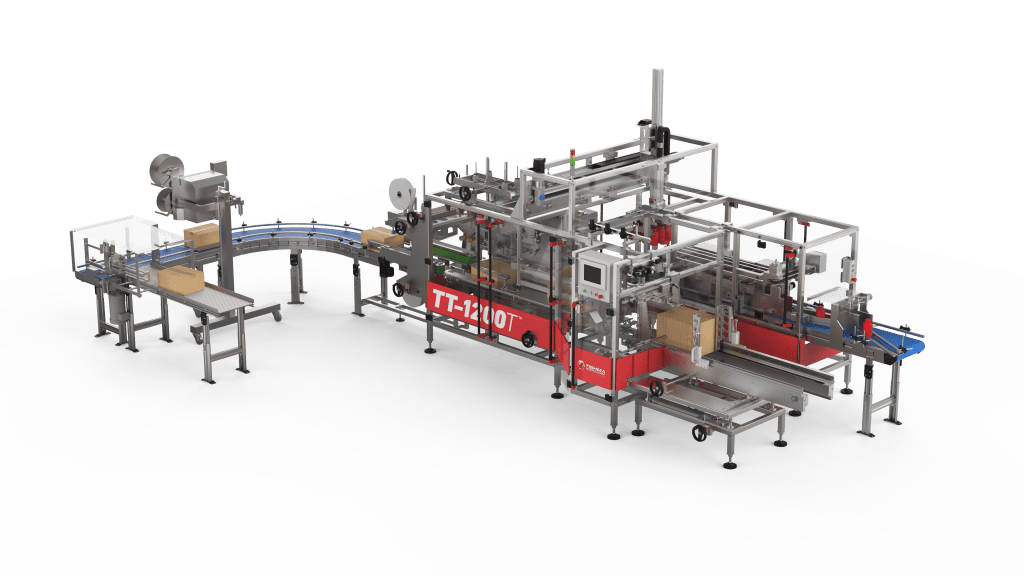 In the pharmaceutical industry, proper packaging is crucial to ensure the safety and efficacy of medicines. Top load case packers are machines designed to efficiently and accurately package pharmaceutical bottles and prepare them for shipping, providing a reliable solution for pharmaceutical and nutraceutical companies.
This type of case packer is ideal for packaging rigid products that can withstand pressure from above, such as glass or plastic bottles. Top-load case packers can handle a wide range of bottle shapes and sizes, making them a versatile packaging solution for pharmaceutical and nutraceutical industries.
The TT-1200T is an intermittent motion top load case packer with a high-speed lane allocation system on the infeed, reaching speeds up to 20 cases per minute. Designed and built for case packing of bottles into RSC case, it is perfect for casing wide-mouth round bottles containing supplement pills, vitamins, capsules, powder, or liquid. TT-1200T can handle various bottle types, including oblong bottles, modern round bottles, boston round bottles, flat oval bottles, pharma cylinders, indented label bottles, recessed panel bottles, etc.
SEQUENCE OF OPERATION:

Cases are stored in a powered case magazine with a low-level sensor that signals operators to replenish the cases. A reciprocating feeder with vacuum cup case placers erects the case on a servo-driven, lugged conveyor to ensure case squareness. Cases are processed through the machine utilizing a servo-driven, lugged case carrier system, which will support the case from the front and the back to ensure squareness during product loading and case closing. Filled and sealed bottles travel upright on a single-lane conveyor to the Tishma high-speed, positively driven, 3-lane allocation station. Bottles are allocated into the required lanes for collation. Bottles are collated into 4×3 pack patterns. Pick tool, enhanced with a combination of suction and gripping to ensure positive bottle loading, picks the bottles and places them into the erected case. Finally, case flaps are closed using a series of stationery and servo-driven tuckers. Once the flaps are closed into place, the case cycles through the taping station.
VIDEO
SPECIFICATION
| | |
| --- | --- |
| TYPE | Top Load Case Packer |
| SPEED | Up to 20 CPM |
| CASE SIZE | Length: 8" – 17.38" Width: 6" – 13" Depth: 4.25" – 7.75" |
| CASE MAGAZINE | 36" powered case magazine with a low-level sensor that signals operators to replenish the cases into the magazine. |
| CASE FEEDING | A gear-driven reciprocating feeder with vacuum-assisted carton placers. |
| CASE LOADING | Enhanced pick and place system with all required tooling |
| CASE TRANSPORT | A servo-driven, lugged case carrier system |
| CASE CLOSING | Tape Closing System |
| PRODUCT COLLATING | Single to Triple Lane Collation System |
| CONTROLS | Allen Bradley PLC/Drive |
| POWER REQUIREMENTS | 480 Volt, 3 Phase, 60 HZ. |
| AIR REQUIREMENTS | 20 CFM @ 90psi, normal dry plant air. |
BENEFITS
TT-1200T features a compact overall footprint, so you can rest assured it will fit your floor space.
Reliable and portable with simple operation and a user-friendly interface, TT-1200T will be up and running in no time.
Built from welded solid stainless steel with hinged cover panels and safety electrical interlocks, TT-1200 T is a powerful and efficient case packer that meets the highest standards with state-of-the-art simplicity.
With their high-speed operation, flexibility, and easy-to-use interface, Tishma Technologies' top load case packers are ideal for pharmaceutical companies looking to increase production while maintaining quality and accuracy. We consider features such as bottle handling, speed, changeover time, ease of use, and safety to ensure the machine meets the specific needs of the pharmaceutical company.